Beyonce Performs at 2017 Grammy Awards Dressed as African Deity Oshun; Dancers Bow Before Her (Video)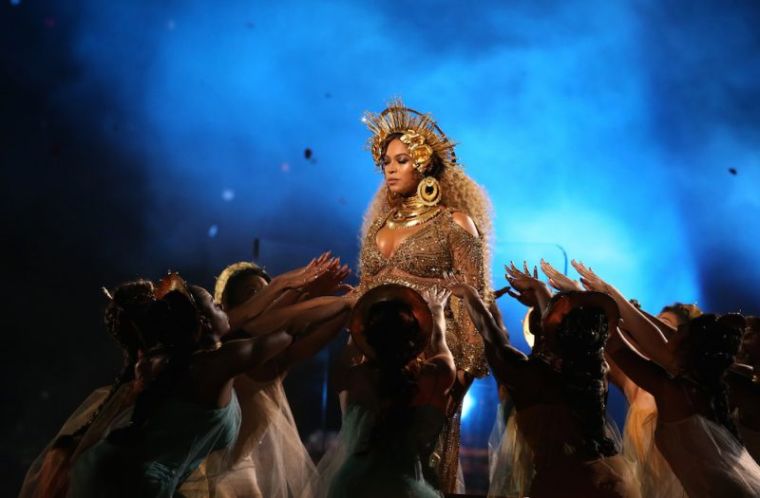 Beyonce's performance at the 59th Annual Grammy Awards ceremony Sunday night received rave reviews in mainstream media because she bravely bared her baby bump while on stage. But pregnancy wasn't Beyoncé's only message. The mega superstar's performance played out as an ode to the African goddess Oshun.
Beyoncé took to the Grammy Awards stage on Feb. 12, pregnant with twins, to perform a medley of her songs, "Love Drought" and "Sandcastles" from the album Lemonade.
The performance started out with eerie projections of Beyonce and her dancers on the screen, the singer adorned in a yellow revealing ensemble was on display as a voiceover of her played in the background reciting poetry from Warsan Shire.
The enchanted all-woman show also featured Beyoncé's mother, Tina Lawson, and her 5-year-old daughter, Blue Ivy, as the screen ebbed between live shots of Beyonce standing on stage and the pre-recorded projections. All three generations were adorned in yellow.
To people familiar with Yoruba, an ancestral religion to the American religions Santería, Brujería, Orisha, and Vodou, the Texas native's ritualistic performance and fashion closely resembled Oshun. Oshun is a deity of the river and freshwater.
The goddess is known for her connection in destiny and divination as a means to promote luxury, pleasure, sexuality and fertility, beauty and love.
During her performance, Beyonce walked through a sea of dancers who bow before her as she sits in a chair that is tilted backwards until it was perfectly parallel to the stage. Later on, her dancers once again stretch forth their hands to her as she stands over them.
The Washington Post said Beyonce has been channeling this goddess in all of her recent work, including her new maternity photos. The outlet called her performance "artistic nods to African, Hindu and Roman goddesses who signify the womanhood."
According to PBS, the 35-year-old first appeared as Oshun in "Hold Up," her video for her second single on Lemonade. Like in the performance, she was also dressed in a flowing yellow dress but in the music video she emerges from behind two large doors amidst waves of water.
Dr. Amy Yeboah, associate professor of Africana studies at Howard University, told PBS that "Hold Up" takes people "deeper into African spirituality. We see this in the first of two baptisms and her emergence as an orisha."
Oshun is a deity over the waters of the Osun Sacred Grove in Nigeria, a dense forest on the outskirts of the city of Osogbo. Worshipers regularly visit the forest with offerings and prayers.
"When you come here and tell Osun 'I am looking for a baby,' you get a baby; 'I'm looking for a husband,' you get a husband; 'I am looking for money,' you get money," a priestess, Osafunke Iworo Oshun, told CNN in 2016. "Whatever someone asks, Osun will always give the person because it's important for the society."
To some, such as Adele, Beyonce is to be worshiped for her talents. The singer's Grammy performance likewise showed that she too considers herself likened to a deity. But Christians take hold of what God almighty says to Moses in Exodus 20:3-5: "You shall have no other gods before me. You shall not make unto thee any graven image, or any likeness of anything that is in heaven above, or that is in the earth beneath, or that is in the water under the earth. You shall not bow down to them, nor serve them."